Step 1
Identify the types of tours you want to provide in order to select your niche. For instance, you can choose to offer any of the following packages: themed tours, family tours, cultural tours, specialized tours and budget tours or a combination of more than one specialty.

Step 2
Identify a suitable business name and research on the proposed name to ensure it is not in use by other similar companies. Determine your company structure and proceed to register the company at the state agency or the county clerk's office. Provide the state's filing office with your company's articles of incorporation to facilitate the registration process.

Step 3
Prepare a business plan or enlist the services of a professional if necessary; your business plan should contain all your ideas in detail. It can serve as a blueprint with which to obtain financing and a guideline to monitor and evaluate your business in future.

Step 4
Acquire all government licenses and trade certifications; government licenses are mandatory for operation whereas trade licenses are not mandatory. Obtain membership in a professional affiliation organization such as the United States Tour Operators to boost your business credibility. Research on the insurance requirements and obtain the necessary policies; this information is available from insurance agencies and insurance brokers.

Step 5
Choose your business premises and enroll competent staff to look after your customers. Train your team in customer relations skills and ensure they have a thorough understanding of the tourism industry and the destinations your clients visit.

Step 6
Set up a business bank account and negotiate terms for fair transaction processing with the bank to minimize your bank charges. Obtain a company credit card to facilitate faster payments to your suppliers.

Step 7
Establish business relationships with industry suppliers by identifying suppliers in hotel industry, car hire and bus companies and ticketing agencies. Creating personal relationships with suppliers helps in getting group rates.

Step 8
Market your company by distributing brochures and flyers in public places, use an attractive company website and network marketing as additional promotional tools. As your business grows, you may consider participating in travel fairs and trade shows.

Step 9
Determine the price for each of the tour components you intend to offer. Success in tours business lies in competitive pricing unless you are offering a specialization that no one else provides.

Step 10
Give your business a chance to prosper. By attention to your gut feelings in making decisions. The more people you depend on for your success the greater your chance of failure.
866.424.0575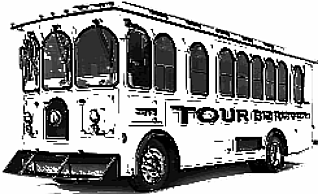 TOUR BUS RADIO SUPPLY